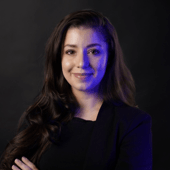 Johanna Strandberg
HR & ESG Coordinator – Human Resources
How do you prefer to start your day?
With my matcha latte at home and some stretch exercise
How do you prefer to end your day?
With physical training, always feel the need to movement - often a walk, zumba. Ending with some tea and Netflix
What energizes you at work?
When I get to develope something that will make a good change 
What would be your advice to new colleagues joining the company?
Become the 5th member of ABBA! 
What part of your job do you feel most passionate about?
When the ESG improvement is being reconized and increases <3
What's the best advice you were ever given? Who was it from?
"Make each day count"  - Leonardo Dicaprio, Titanic. 
What's a typical weekday like for you?
Looking on the ESG progress, organize the process of improvement, supporting the managers with routine structures and development. 
What's your go-to productivity trick?
Micro breaks & movie soundtracks 
What do you work with?
I'm a HR & ESG Coordinator. Coordinating the sustainability work and set the routines for the units to work with.